Open Positions
Female Counselor

SWAT positions

Camp Store Assistant

Health Center Coordinator

Office Manager

Male Counselor

Food Service Team
Filled Positions
All Senior Staff positions

Communications Team

Arts & Crafts Coordinator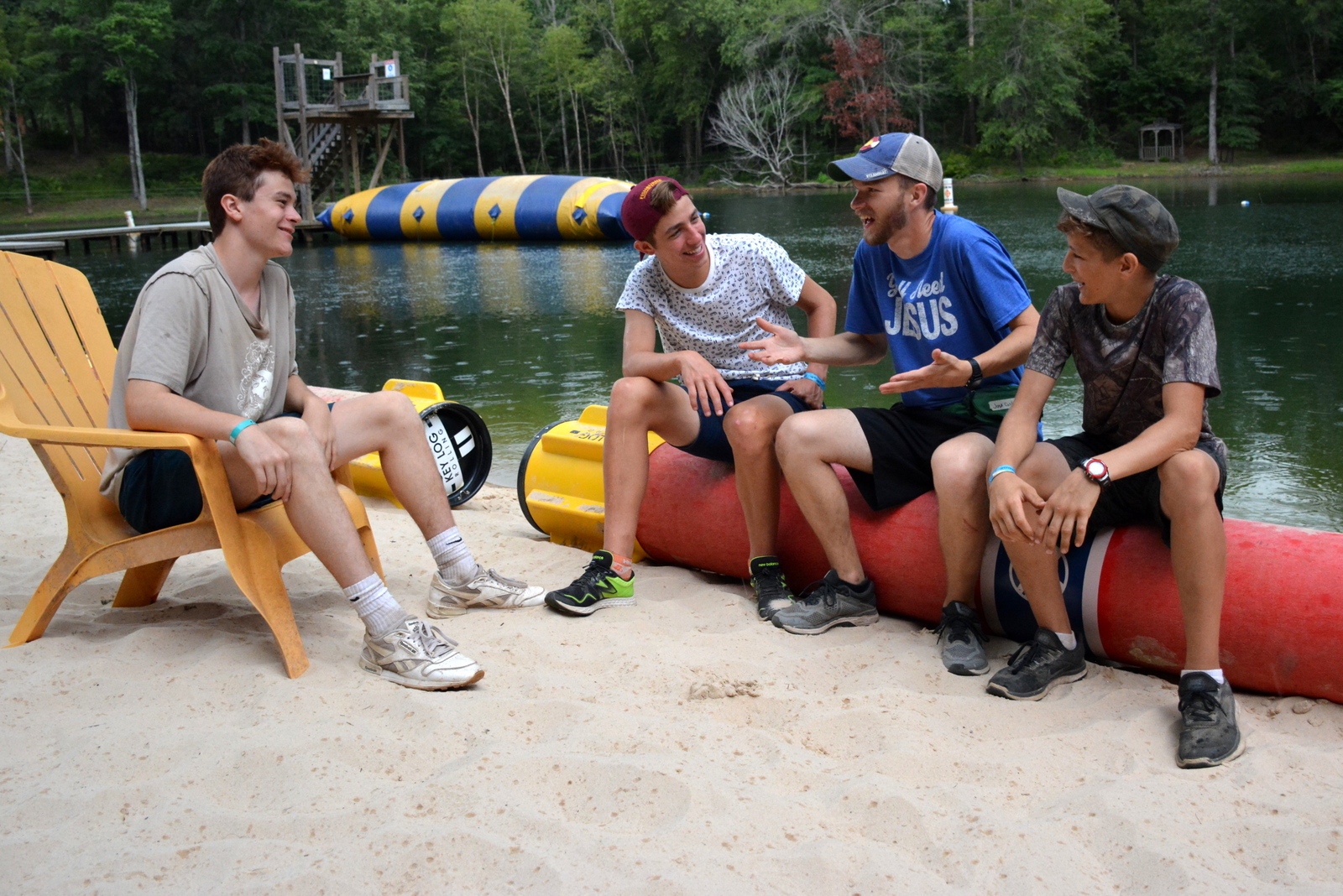 Ready to change the world?
Ministry
The heart of a summer job at The Pines is in the ministry to every camper that comes through our gates. Whether you're playing with them on the ultimate field, praying with them during spiritual night programming, or simply being an ear to them as they open up about their life, you are being the Light of Christ to each camper. Imagine having the opportunity to help transform the heart of a young person to fall in love with Jesus for a summer...as your job. It takes exhausting work to model the love of Jesus, in your patience, compassion, joy and selflessness to help the young people experience God in the outdoors in community, word worship, and service.
Formation
To be able to serve others, we must also have full cups ourselves. Throughout the summer, our staff will also be forming you by intentionally growing in virtue. We use discipleship meetings and virtue checks to follow up with you on goals set for summer. Each staff member is also given an accountability partner that they will check in and meet with throughout the summer. We begin the year with a training week including a staff retreat, and opportunities for the sacraments throughout the summer. In addition, incredible priests, speakers, and musicians come to camp and pour into the campers and staff.
Community
As our dear friend Fr. Hank Lanik reminds us each summer at our opening staff training Mass, "Look around you in this chapel. The people you work with at The Pines will be the people that attend your wedding, they'll be your children's godparents, and maybe even your spouse." The bond formed by our staff as they work countless hours in the heart of this ministry, and by the very nature of the sacrifice of the summer a kinship is created. You become a part of the legacy of The Pines that lasts for generations in memory, common struggles and accomplishments in sacrifice.
Fun
Can it really be called summer camp if it isn't fun? You'll be leading activities, getting messy, performing on stage, and laughing with staff and campers alike. We have great laughs at skits, weekly dances, and bonfire songs. At staff rejuvenation Saturday in July, we have a cookout and volleyball tournament. Of course, the fun of fireworks, chicken and waffles, the blob, pool, and friends aren't just for the campers. There isn't another summer like one out at The Pines Catholic Camp!
Cabin Counselor
Requirements: Must be at least one year removed from high school graduation
Commitment: Full summer, one week off (exception if needed)
Returning counselors may sign up for a half-summer, if necessary
The counselor is the individual with whom we place the most trust. This person must be fully committed to the teachings of the Catholic faith and have a joyful heart! We're looking for someone ready to help the kids have the week of their lives! Being a counselor requires a "camper centered" heart, high responsibility, and a great sense of humor! The experience we share with the children at camp has a lasting effect on their lives, and we take that very seriously.

SWAT - Servants With a Task
Requirements: At least high school graduate before start of summer
Commitment: Half a summer. Traditionally starting in June/July
SWAT position's responsibilities include all the behind the scenes jobs that make camp run smoothly. Jobs of the day vary depending on the demands of camp, but most days involve serving food, cleaning facilities, helping with maintenance duties, and assisting in the Camp Store, office, and with campers. The SWAT Team lives in gender specific community and are supervised by the SWAT Coordinator. There is an emphasis on spiritual and professional growth and maturity through daily meetings, regular spiritual formation, and team building activities.
SPOPS - Special Operations
Requirements: Must be at least one year removed from high school graduation
Commitment: Full summer
The SPOPS team at The Pines Catholic Camp keeps specific areas of camp running efficiently while being an example of Jesus' love and joy to campers. The individuals that make up the SPOPS team work in a specific area of camp such as photo/video, dining hall, health center, arts & crafts, camp store, office, maintenance, and more as a vital part of The Pines ministry. Throughout the summer this team prays together, supports each other, and works countless hours to glorify God in this ministry.
For more information about the specific positions on SPOPS, click here.
Senior Staff
Requirements: Must be at least one year removed from high school graduation and have been employed at The Pines for one summer previously
Commitment: Full summer
The Senior Staff team is meant for those experienced individuals that feel a calling to serve God by leading their peers. The goal for the Senior Staff team is to help staff lead young people in faith, fun, and friendship. The senior staff prayerfully ministers to the staff, helps plan the programming of the summer, and shapes the mission of camp by their servant leadership.
For more information about the specific positions on Senior Staff, click here.
One-Week (or more) Nurse Options
Requirements: RN or Nurse Practitioner
Commitment: One week (or more, if you'd like!)
Each week during summer, we have a registered nurse on camp to help with medications as well as treat minor injuries and sicknesses. It's a great way of experiencing the fun of camp while helping out behind the scenes! Payment will be in the form of a week's camp tuition plus a small stipend, or if you do not have any campers, we will pay you a stipend.
Step One
Apply! Use our online system to apply for any position you're interested in. You can apply for multiple positions at once. Applications for Senior Staff will also require a cover letter sent to john@thepines.org.
Step Two
You will need three references. When you apply, reference forms are automatically sent to your specified contacts. When they all fill out the form, the application process will continue.
Step Three
When all of your references complete their form, we will contact you about an interview time. Interviews are conducted with a video call (Hangouts, Skype, Zoom, etc.). If a video call is not available, the interview will be conducted by a standard telephone call.
Step Four
Our staff will contact you with a final decision. If you are offered a job, you will be given a set amount of time to decide and respond. Please continue to pray for us as we pray for you!